D'ni Math

The D'ni number system is base twenty-five. The characters are small boxes with figures inside denoting value. The chart below shows the numbers from zero to 24, which is normally all the numbers you'd have in a base 25 system, but, as Richard Watson explains in his letters to the Riven Lyst, there is a special character which denotes the number 25 in certain circumstances. For more information, please read the following sections.

A D'ni Number Chart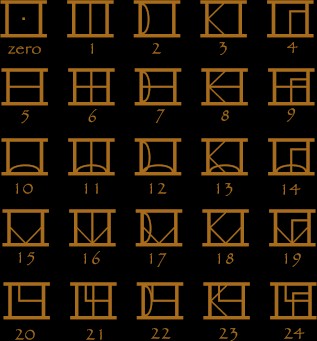 Two Ways to Write the Number Twenty-five




The number 25 is the only D'ni number which has a dual representation. Twenty-five is usually written with two characters as shown on the right above, but in special circumstances it can be written with the single character shown on the left above. To find out more about this, please read the letters from Cyan's D'ni historian, Richard Watson.

Richard Watson's Letters
From time to time Richard Watson of Cyan has written to the Riven Lysts answering questions and explaining things related to D'ni mathematics. Here are a few of his letters on this subject.
~Explaining the two ways to write the number twenty-five, and how the D'ni zero is written. Letter One

~Explaining the character with the slash on Gehn's timepiece in Riven. Letter Two

~More about the slash on Gehn's timepiece in Riven, and the different ways and reasons to write twenty-five. Letter Three

This is an excellent page of information about converting numbers between our base ten and the D'ni base 25. Converting from base 10 Arabic numbers to base 25 D'ni numbers
This wonderful calculator was made by Karl von Laudermann for the Mac platform. Rivenumerator
This is a link to the D'ni Calculator, which will calculate in Arabic and D'ni numbers.
Also extremely useful is the The Interactive Pocket D'ni Encyclopedia, which translates and converts many D'ni things.
This is a page about the D'ni numbers by Shahneer. D'ni Numbers

Many thanks to Andy Moriarity for The D'ni Font which includes the characters I used to make my D'ni number illustrations. This high quality True Type font is available for download in both Mac and PC formats from Andy's web site.

Return to Riven Reference


Myst, Riven, and all things D'ni are the creation of Cyan Worlds, Inc.
Important Legal Notices

The D'ni Desk Reference